Sleep deprivation  can lead to daily fatigue, causing us to exercise less and continue the vicious cycle of inactivity. It also has the potential to put us at growing risk for weight gain, diabetes, heart disease, stroke, and memory loss. 
Proven by science and experience, a pillow can make or break your body's ability to fully utilize the rest it so badly needs !
There is nothing quite as annoying as getting enough sleep hours and still feeling tired the next day. You find yourself nodding off in the car, or at your desk, or in meetings.
When it comes to beating sleep deprivation, it's not enough to just spend more time sleeping.
You also need to make sure you're getting in plenty of deep sleep. Otherwise, no matter how long you sleep, you'll still feel sleepy. Sleep quality is as important if not more, than sleep quantity! 
DIFFERENT SLEEPING POSITION REQUIRES DIFFERENT ANGLE OF SUPPORT:
DEEPREST™ Orthopedic Cervical Pillow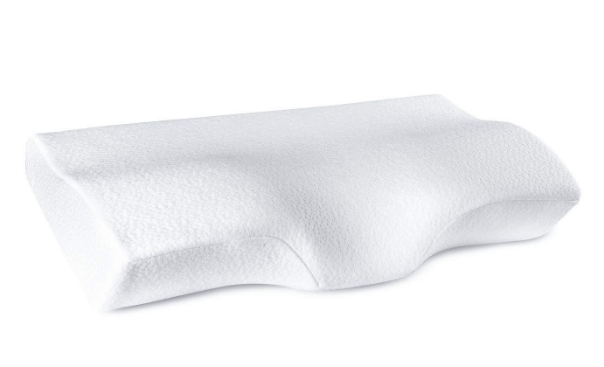 About this product:
High Quality Memory Foam
Pressure relief technology
Air permeability
Non Allergenic and Anti Microbial
Unique Anti Snoring Features
Ergonomic Contour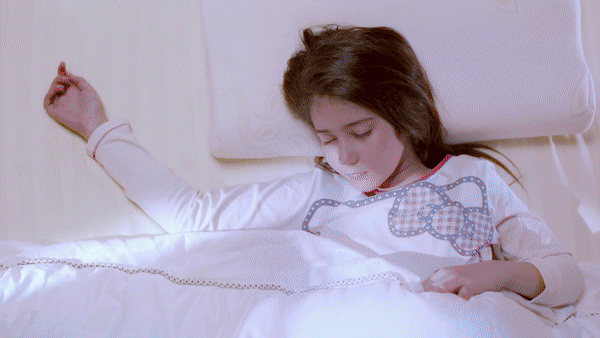 SPINAL ALIGNMENT
Conforms to the contour of your head and neck, help foster proper spinal alignment.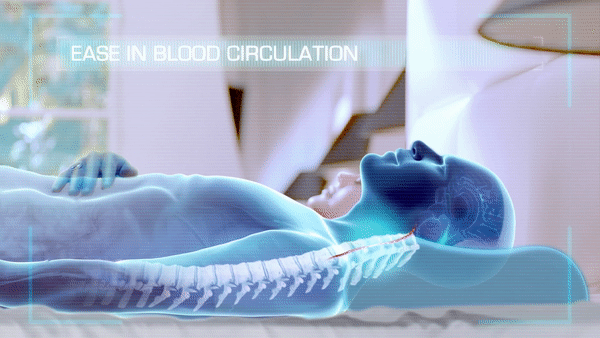 BLOOD CIRCULATION
Helps the blood flow to your heart more efficiently. Deeprest pillow cradles your head and keeps your spine aligned.
This pillow uses high quality memory foam with increased isolated pressure distribution, providing a great pillow for those with neck and snoring problems. 
SPINAL ALIGNMENT: It is designed with both high and low loft to cater to the needs of different sleepers. Regardless of your sleeping position, Deeprest pillows will help to align your neck and head in such as a way as to avoid blocking your airway and consequently reducing your chances of snoring.
REDUCE SNORING: It also helps release breathing airways to reduce snoring and relieves stiff pressure points along your neck, shoulder and back. 
HIGH QUALITY MEMORY FOAM: This pillow maintain shape for lifetime, and while comfortable and soft they are also dense enough to offer unparalleled and balanced support and cushion. Memory foam reacts to body heat, moulding itself to your head and neck and offering perfect support.
NON ALLERGENIC & ANTI DUST MITES: It is also non allergenic and a very poor environment for dust mites, so those sensitive to bacteria and other microbes can rest easy. The cotton-rich velour cover is easily removed for washing, and adds one final layer of luxurious comfort.
Get one of these to get your sleep quality back on track!
Material: Memory Foam
Size: Approximately 50 x 30 x 7 x 10 cm
DID YOU KNOW
Did you know that your pillow should be replaced every twelve months? While your old pillow may still provide you with ample support, it may also be harboring mildew, mold, fungus, dust mites and those yucky old skin cells!
Shop with us TODAY and receive a SPECIAL DISCOUNT!
We are a fast growing company because we always put the customer first. A customer-centered shopping experience has always been our goal and we pride ourselves in our comprehensive policies that have put us in a realm above and beyond our competitors.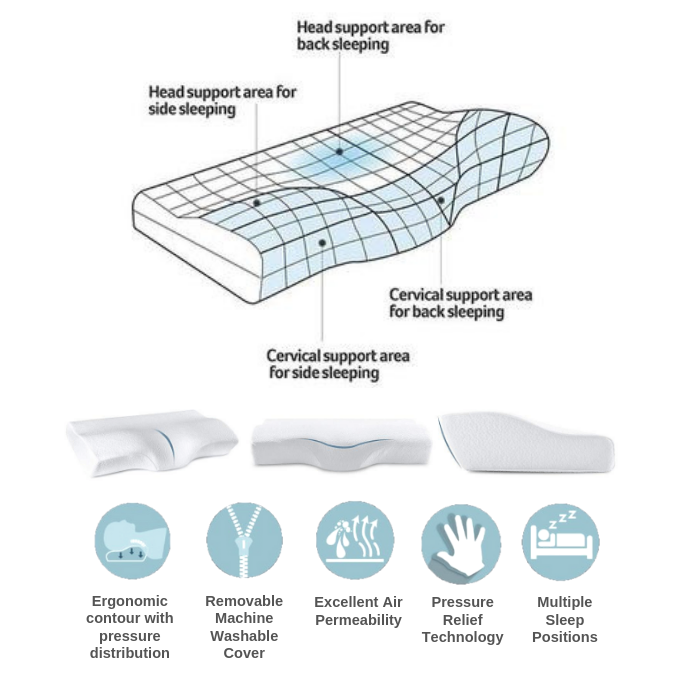 DEEPREST™ Orthopedic Knee & Leg Pillow
SCIATICA, BACK AND HIP PAIN RELIEF AT NIGHT: Ergonomically designed knee pillow fits comfortably between your knees and provides maximum support and comfort at night that helps relieve sciatica pain and pressure on the lower back.
PREMIUM HIGH-DENSITY MEMORY FOAM: Made with 100% premium quality durable cut memory foam to provide long lasting comfort for hours, superior to other pillows it won't go flat over time.
KNEE PILLOW WITH WASHABLE COVER: Breathable zippered cover ensures the pillow does not get warm and is machine washable for simple cleaning.
MULTI-POSITIONS: Can be placed in multiple position around the knee can improve blood circulation and prevent aches and pains. Perfect for side sleepers and use during pregnancy.
SPECIAL OFFER EXPIRES IN:
Looks like you just missed this offer! Shop our store for our latest deals - 100% FREE SHIPPING ON ALL ORDERS IN THE USA!
DEEPREST™ 
Orthopedic Cervical Pillow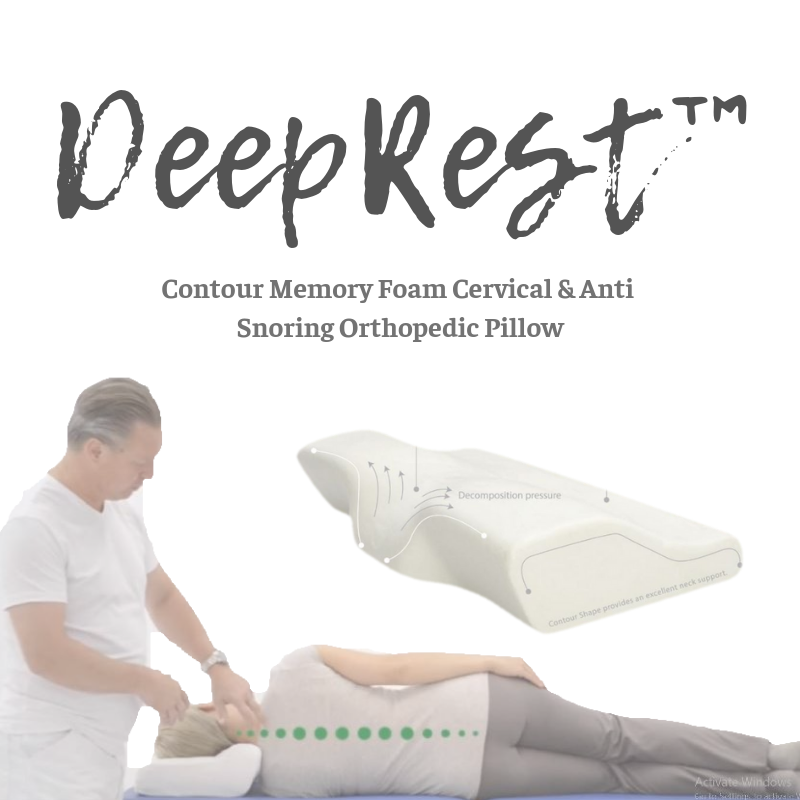 $66.75
Discount Code: DR25
Enter code at checkout

DEEPREST™ 
Orthopedic Knee & Leg Pillow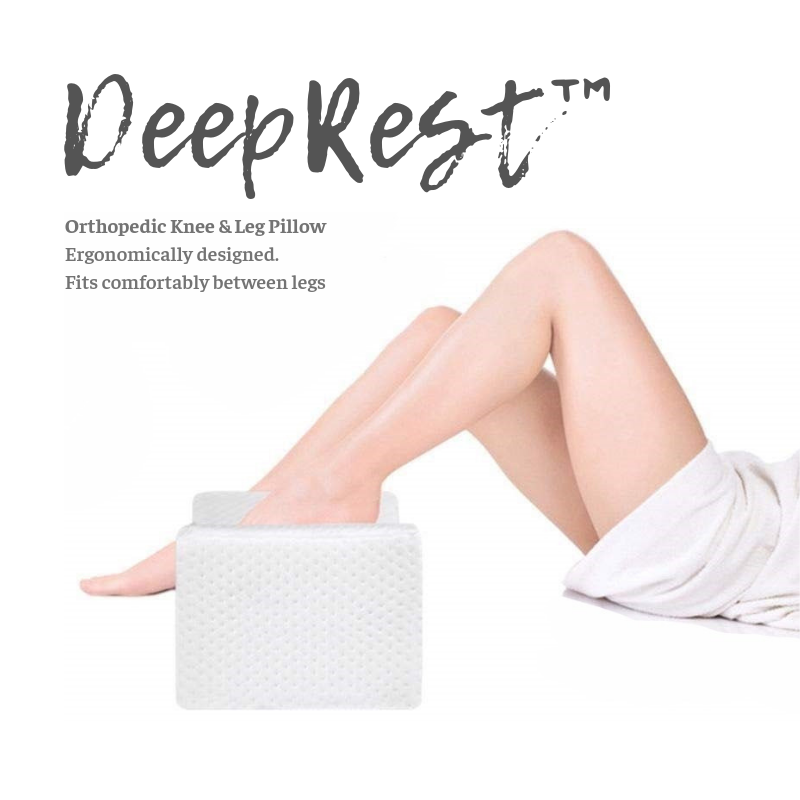 $33.75
Discount Code: DR25
Enter code at checkout

COMBO Deals
DEEPREST™ 
Orthopedic Cervical Pillow
Orthopedic Knee & Leg Pillow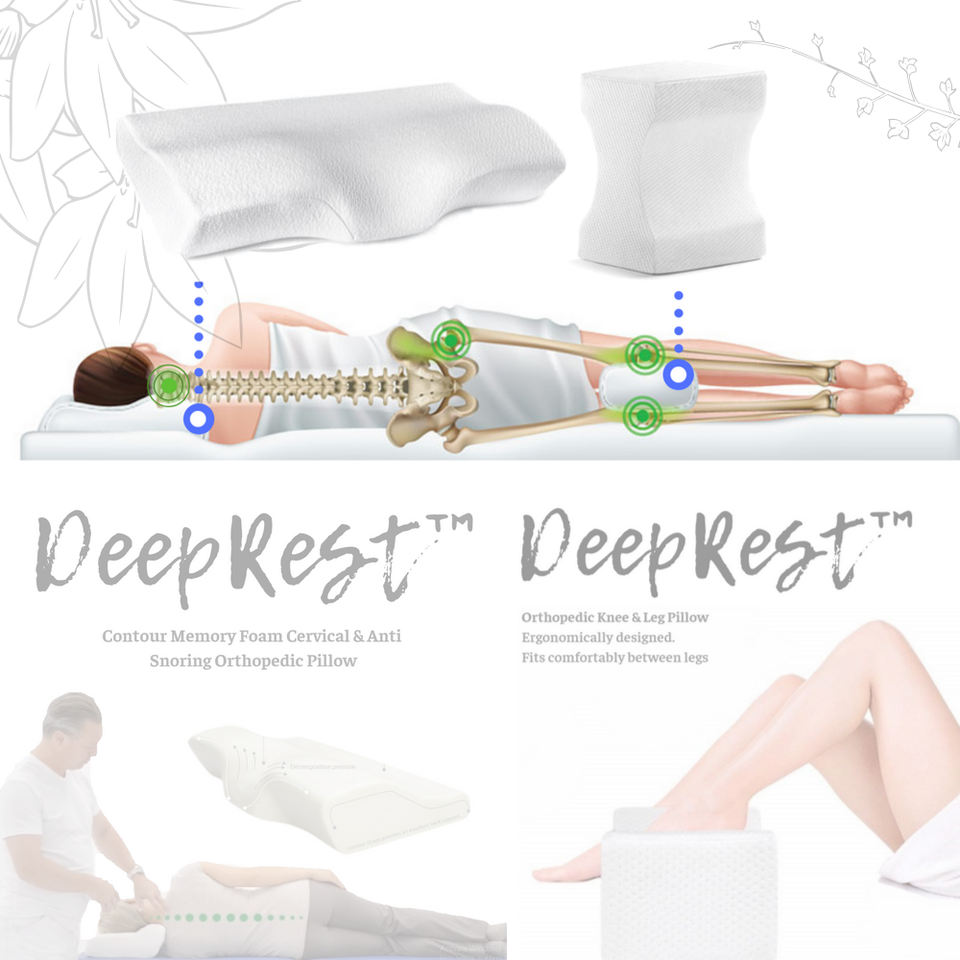 $88.44
Discount Code: DRCOMBO
Enter code at checkout

I suffer from neck pain most days due to poor posture and sitting in the computer all day. My chiropractor suggested I get a pillow, a memory foam pillow that contours my head and neck while sleeping. I got this one and it made a lot of difference. It is comfortable to sleep in and gives relief the next day by alleviating neck pain.
★ ★ ★ ★ ★
Shanon - Results may vary from person to person.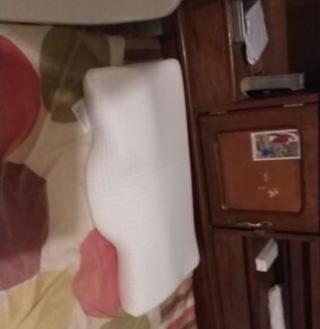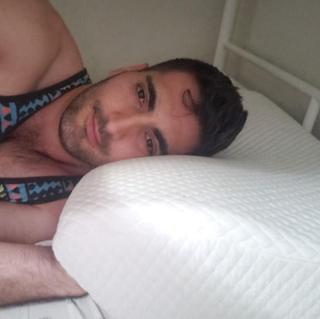 I don't even know how many pillows I have tried over the years that I have had neck pain but believe me a lot. Nothing has ever helped, most made it worse until this pillow. I decided to try just one more time and I am so glad I did. From the first night, my neck was better and it just keeps getting better. I still have some pain in one side but after years of barely being able to turn my head, I am beyond happy.
★ ★ ★ ★ ★
Bullinon - Results may vary from person to person.
It is for both of the Side Sleepers and the Back Sleepers. I have used this pillow for a several nights and I feel comfortable on this. First of all, I feel cooler than my old one. Especially on these summer days, I feel hot on anything that touches on my body, but this pillow didn't wake me up middle of the nights. The pillow is perfect for the straight sleeper because the shape of pillow helps me to stable fit on my neck and head. My wife has her cervical pain after car accident, and she said it is a lot better than any other pillows. The side sleep is ok, but not as much as straight sleeping. The pouch is perfect for the travel, but when it folds pillow to pouch, it is big and a bit heavy to travel. Overall, I see this is must have for anyone with back or neck pain.
★ ★ ★ ★ ★
Nuno - Results may vary from person to person.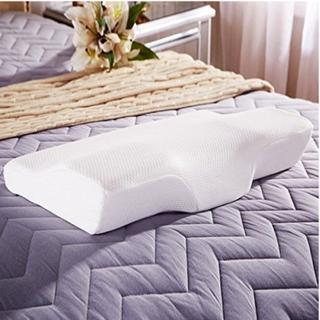 SHIPPING INFORMATION
We are making, packing and shipping as many orders as we can every day!
Please note that most orders will take between 8 - 18 DAYS to arrive.  Sometimes this can be much faster but sometimes it can take the full 16 days.
You will receive an Order Confirmation and a Shipping Confirmation email which will have tracking information for your order. Please check your spam/junk folders or email us if you don't receive your emails.
Thank you and enjoy!